An ERP is an efficient tool for collecting data from multiple functions related to accounting and your overall financial system. However, if you are relying solely on an ERP to manage your dairy manufacturing operations, you are most likely losing a lot of valuable data simply left on the dairy processing production floor. When it comes to dairy manufacturing processes specifically, plant managers must look beyond the capabilities of an ERP system.
Here are five reasons why your ERP is not enough for dairy manufacturing:
1. You Need Detailed, Timely Data on the Production Floor
For most companies, the ERP only begins tracking the product once it is packaged. This ignores valuable information on batch ingredients and recipes. To strengthen your quality control and identify areas of waste, you need transparency to the data generated in the production layer to reach full potential in your processing.
For example, suppose you are packaging 2% milk. In that case, you need to make sure there is no more than 2% fat going into each gallon of milk because if you put 2.03% butterfat into each gallon of milk for the thousands of gallons of milk you processed that day, you could lose up to $600 worth of butterfat just in one day of bottling milk.
Day after day of losing even small percentages of butterfat, or any solid for that matter, adds up quickly. Your ERP is not capable of tracking those misplaced solids on the production floor.
2. You Want to Empower Your Key People
Do you strive to make your key people on the production floor better decision-makers? Or maybe your shift managers have access to a lot of data, but it takes up a lot of their time to analyze the information and make it actionable data.
Your ERP does not offer your decision-makers the capabilities of gathering actionable data for your production processes. To fill this gap, production staff rely heavily on delayed spreadsheets or paper forms that provide data well after corrective action can take place.
What if you could provide actionable feedback to your plant staff so they can make better judgments impacting current production flow, not summarize what went wrong three days later? By correlating key data into KPI dashboards and generating easy-to-digest reports, you will empower your staff to use data to supplement their gut instincts, making their decisions better in real-time.
3. You Need the Ability to See Your Plant – Without Being at the Plant
Although it offers a centralized location for your financial processes, your ERP lacks the real-time data that many processors find valuable today. With the ongoing pandemic and hiring frustrations we are seeing, the ability to see the production data from home can help you keep an eye on new staff members without physically having to be at the plant.
Since many factors can affect a batch of products during processing, a program with remote access to your production process keeps you on top of any inconsistencies in a batch of products – saving you costly missteps in dairy processing. Perhaps even more importantly, the ability to create alert conditions – automatically sending out texts and emails when certain major events occur, can help avoid a ruined batch or a lost production run.
4. You Want to Get Away from Paper Forms
What if you could validate the completion and compliance of every process in your dairy manufacturing plant by simply looking up a log that is automatically generated? Your ERP does not have this critical capability; it just receives the results – if at all.
Paper forms have traditionally been used to document key data points in every processing step, including batch records, CIP logs, start-up and shut down activities, and various other critical tasks. Now, there is potential to go beyond the checklists on paper forms and continue monitoring your employees' productivity, and still ensure that they are taking the proper steps in the correct order. With today's labor shortage and heightened risk of turnover and illness, having the ability to go beyond paper forms creates continuity in your processing operations.
5. You Want to be a Sustainable Company
More and more people ask detailed questions about where their food comes from and whether it was made with sustainable practices. Customers want reassurance that your company is a good steward of the environment.
Can your ERP help reassure customers by documenting and auditing your processes essential to eco-friendly practices? Not at all.
An eco-friendly and sustainable company needs access to electrical usage and wastewater monitoring on the production floor. ERPs pay the bills for these actions, but they lack the ability to expose the data into how processes can be improved in utility usage and waste expenditures. When this data is combined with production data on yields and shrink, you can get a full 360-degree view of your sustainability efforts at the plant. This view includes all the production data, utility usages, wastewater, packaging, and various other inputs to provide unparalleled insight into sustainability efforts.
As a result, having a method of documenting and proving to your customers that your products are produced responsibly and sustainably is key in providing complete transparency of your dairy processing.
Looking Beyond Your ERP System
Dairy manufacturers that realize an ERP system is not enough gain the numerous advantages of enhanced visibility to productivity and the capability of reaching full processing potential. Your ERP simply states the obvious – it doesn't help you increase profitability, efficiency or improve sustainability measures. Furthermore, it doesn't help you measure your individual production runs, eliminate unnecessary shrink, or track your journey towards zero loss manufacturing.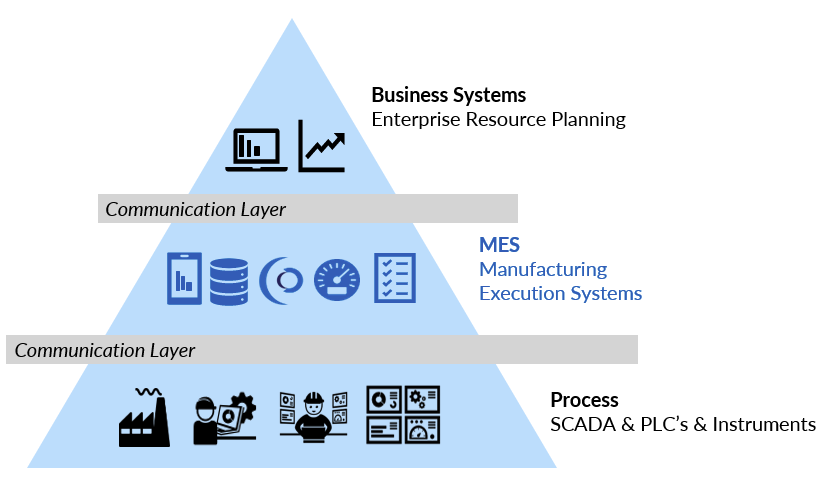 Instead, you need an MES. It lives between your ERP and your manufacturing floor as sort of a real-time support system for plant managers and others, providing a clear picture of what's really happening through your production process. Instead of spending countless hours on data collection and analysis, your operations will consistently have the information it needs to be successful.
Learn more about how your plant can make more and waste less with an MES in addition to your ERP.